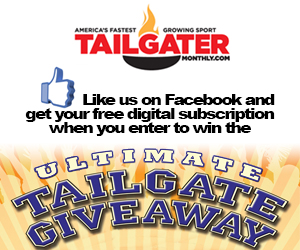 If you LOVE to Tailgate then here's a fun giveaway for you fromTailgater Monthly. Just head over to their Facebook page and enter to win at huge tailgater grill, deluxe bar or grill fryer and more! *You also get a free digital subscription to Tailgater Monthly when you enter.
Here's the list of prizes
*1 GoGalley Grill ($2,495 value!)
*1 Best of Times Deluxe Bar ($699 value!)
*1 BlackTop Party Hub 360 Grill-Fryer ($249.95 value!)
*12 Kijaro Dual Lock Chairs ($35 value!)
*12 WileyX Sunglasses
*6 Slicks ($107 value!)
*6 Quakes ($97 value!)
*6 Big Game USA Tailgater Monthly Footballs ($99 value!)
*1 Rib-O-Lator ($99.95 value!)
*12 Freedom Flasks ($24.95 value!)
*12 Robocup Caddys ($19.99 value!)
*3 GloveLites ($19.95 value!)
*2 Big Bobber Coolers ($39.99 value!)
*2 Tailgate Touchdown Games ($44.99 value!)
*6 Sets of Drink & Plate Sets/10 Each ($24 value!)
The contest ends tonight, Sunday September 16th at midnight so register while you can & Good Luck!